Research Through Gaming wins NGMR Award for Thought Leadership in the Disruptive Innovation category
In December 2015, we won this prestigious award through NGMR (Next Gen Market Research), and we couldn't be happier! The award (which came to us in a huge box and is extremely heavy!) sits in our offices and reminds us every day to keep doing what we're doing. This award proves that any company, no matter it's size, can truly inspire an entire industry to change and evolve for the better. In our case, we did this through our dedication to game-based research methods. Thank you NGMR, and to Tom Anderson and Kristin Luck for their extremely kind words.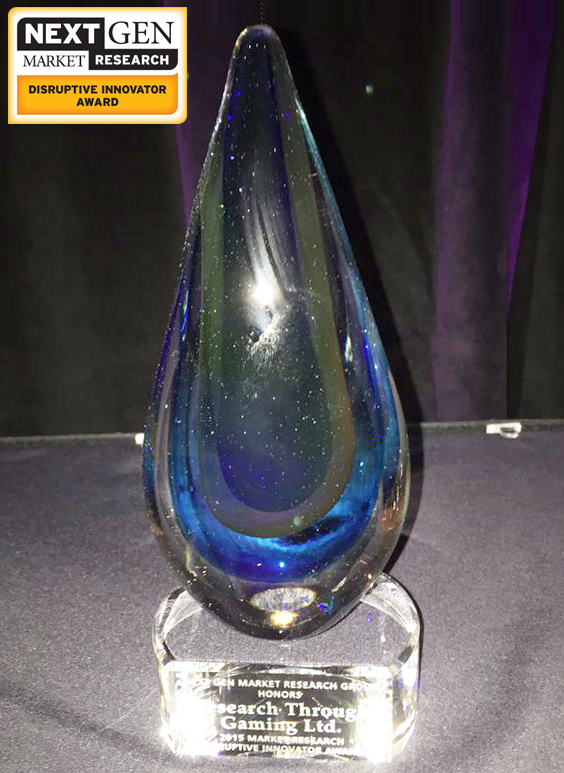 More on the NGMR Award 2015
As well as Tom Anderson and Kristin Luck, we'd also like to thank all other organizers and affiliates who were instrumental in putting together the awards and presenting them at TMRE. Without organizations like NGMR, companies like RTG wouldn't have the platform for recognition. We were kindly invited to go to Orlando in Florida to pick up our award in person, so we thank Kristin Luck again for accepting the award on our behalf while we were making ResearchGames back here at HQ (and Betty was working on her PhD!) Huge congratulations to all the winners at the 2015 NGMR awards and double congratulations for a 58% increase in submissions from female researchers and innovators!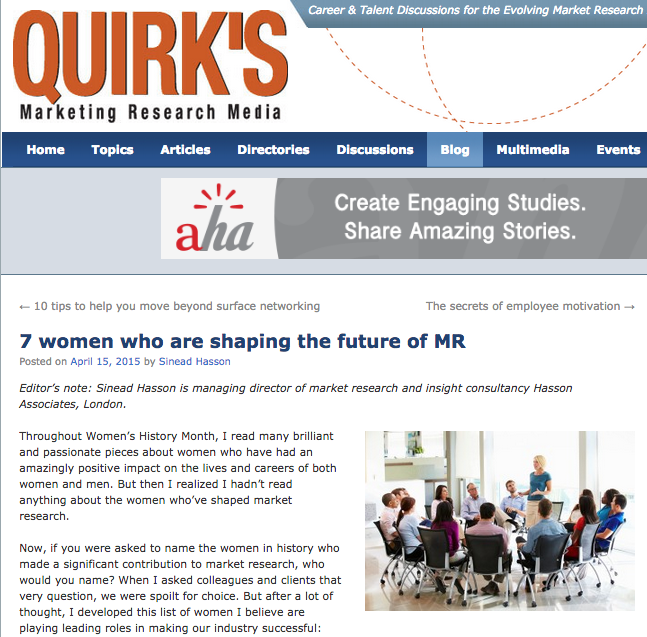 Betty Adamou, our CEO & Founder, was named in 2015 as one of seven women shaping the future of market research, along with research experts like Jane Frost from the Market Research Society and Elizabeth Nelson, co-founder of Taylor Nelson (now TNS). From being named 'Researcher of the Future' in 2014 through CASRO, to 'one of the Top 50 influential Market Researchers' again in the same year, you can see that the recognition we've received has has quickly accelerated.
Read the full article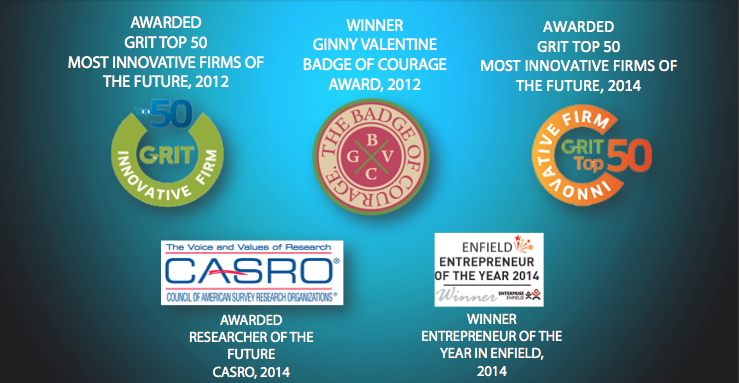 We're a
GRIT Top 50 Innovative Firm...and more
Not once, but twice, we've been on the GRIT Top 50 Most Innovative Firms in Market Research list, often right next to organizations who have been around a lot longer than us. It goes to show that even in a competitive market place, a flexible agency who has their eye on the future can still have impact on the industry at large.
Entrepreneur of the Year Award, 2014
Enfield is one of London's largest Boroughs, and filled with great businesses grown by people who are self-starters and entrepreneurs. So when our CEO & Founder, Betty Adamou, won the Enfield Entrepreneur of the Year award in December 2014 from Enterprise Enfield Business, we were absolutely delighted to receive this recognition and meet other local business people, AND the Mayor of Enfield and Enfield's local MPs! The news was quickly publicised in local newspapers including the Greek newspaper Parikiaki and the Enfield Independent. Read more about the experience in the news article here.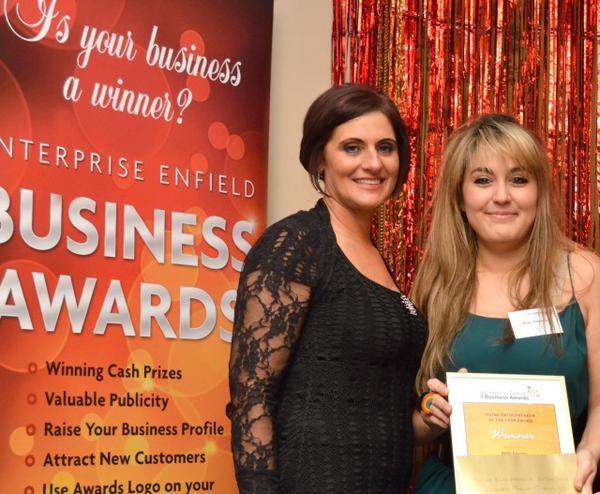 Ginny Valentine Award
Since we first opened for business, Research Through Gaming have hit the ground running. After just 7 months after inception, our company was already in the GRIT Top 50 Most Innovative list of Market Research companies in 2012 (and then again in 2014).
Not long after, our CEO & Founder won the Ginny Valentine Badge of Courage Award for Entrepreneurial Spirit and Bravery in Research. Watch the nomination here from thought-leader Ray Poynter of NewMR and The Future Place.
What People Say
Sometimes, people say nice things about us when they present us with an award, or nominate us for something online, and we never forget those comments. But sometimes, people might just send a message through email, Linked In, or even Facebook to let us know what they think about what we're doing. We call these positive comments 'fuel pellets' because even through a day of tough work, this kind of feedback can really be the fuel that keeps us going. Check out some of the comments below from people in the market research industry.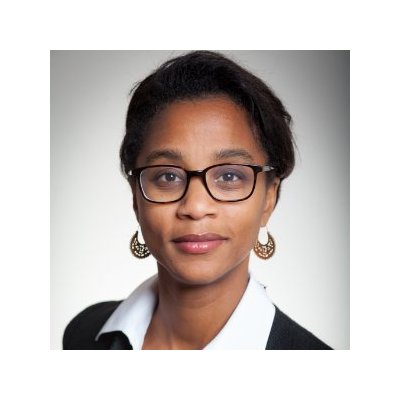 "Everyone once in a while you meet someone whose energy and passion for their work inspires you.
Betty Adamou and her company, Research through Gaming, have brought real value to our members and the industry at large through her blogging, hosting of events and continuous support of our initiatives.
Research Through Gaming is without a doubt one of our key 'go to' Gamification partners and we look forward to future collaborations with them!"
– Erika Harrifod-McLaren, Communications Manager at The International School of Amsterdam and Strategic Corporate Communications Manager ESOMAR.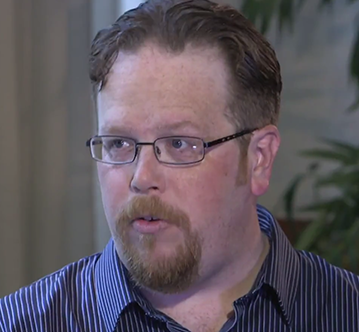 "Occasionally we are all blessed with meeting true visionaries; people like Steve Jobs, Mark Zuckerberg, etc.. before they become household names. Betty is one of those people. Her uncompromising vision, enthusiasm, and ambition WILL transform the way market research is conducted one way or the other. I have no doubt that within 5 to 10 years she will rise to the top as one of the great success stories of not just market research, but of the emerging culture of consumer engagement we find ourselves in. If you don't know Betty you should; one day you'll be able to say 'I remember her when…'"
– Leonard Murphy, Senior Advisor Gen2 Advisors, Editor-In-Chief GreenBook Marketing Research Directory, Chairman and Founder Insight Innovation Exchange.
We've only got where we are today by
doing the work we do, sharing the work we do,
and supporting other businesses to grow.
So let us use our magic with you.
Let's play.
Contact us