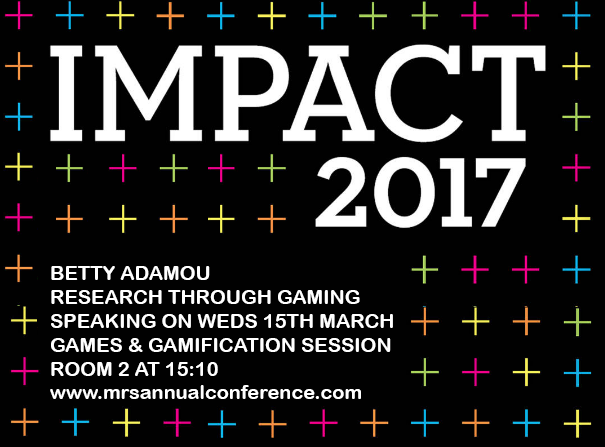 On Wednesday 15th March I'll be sharing a talk on how a ResearchGame can do more than help a brand sell more stuff, but can pave the way for reducing waste and supporting sustainability in fashion. While the subject is niche, using games for developing activewear bottoms for a US brand for women, actually there's a huge amount we can all learn from by encouraging customer collaboration in design to help the makers use data as a design and decision support tool – and this is what I'll be speaking on in Room 2 at 15:10 on Wednesday. I can't wait to share the case study and ideas with you all 🙂 There are two other game-based research presentations after mine from Deborah Sleep, and Alex Wheatley and Patricia Dominguez co-presenting.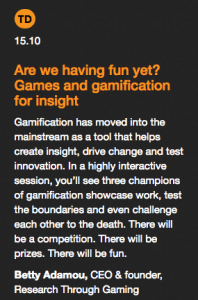 My talk is called " Fashion Development and aiding Sustainability through ResearchGames." How a ResearchGame helped women design their own activewear bottoms, and can pave the way for waste reduction in fashion.
But today, Monday 13th March, I came to the Grange Hotel in Tower Hill, London, to do a rehearsal of my talk (after so many years public speaking I still get pretty nervous) and I can tell you that being here 'back stage' is eye opening; the staff are working incredibly hard to make it look so easy and I'm sure the whole event will be a success. The stage looks very pretty, and I feel privileged to speak here in two days.
The Games and Gamification session also has little gameplay going. I designed a little Bingo game that all listeners can take part in and even win a goodie bag and take part in a secret activity (shhh). Come along to play!
What I'm looking forward to:
I'm looking forward to pretty much everything. For instance, hearing from Caitlin Moran (love her articles), and if I could clone myself, I would go next door during my own talk to listen to Mark Earls again (heard him speak at IIEX). And yes I've recognised that with Mark Earls speaking next door to me, at the same time, there is no way I can compete. I'm expec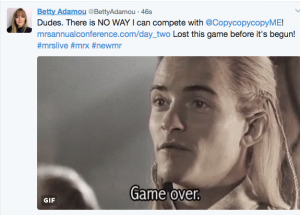 ting some empty seats! I'm looking forward to the Business of Happiness track (as a lot of my work in game-based research methods has to do with happiness) and the MRS party of course!
I look forward to seeing you all there. If you're there and tweeting, use #MRSLive, and feel free to come and say hi 🙂
Download the full programme here.
Get your tickets here.
To find the conference venue, check out the map here.