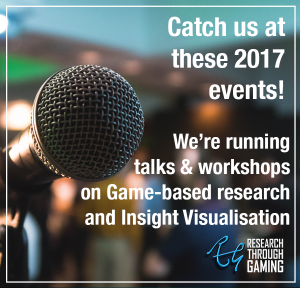 There's lot's going on with RTG in the run up to the year end! Here's some places where you can catch me speaking at an event or running a workshop (or both). The subjects covered are ResearchGame design and development, and Insight Visualisation.
The UX Live conference, London, Friday 27th October 2017 (from 9:30am)
I'm sharing a design and UX focused presentation titled "Surveys as Digital Games: Online Research Through Transformative Design and UX".
Usually when presenting to a research audience, my talks are result and impact focused, but this talk will also discuss the ResearchGame design process, as well as some things I get wrong and right as a ResearchGame designer. I'll be speaking from 09:30am, and then joining a panel discussion with the likes of Google and Facebook about UX, UI and other design aspects at 11am.
You can book a ticket for the 2 day event via Eventbrite here.
The University Market Insights Conference, Leeds, Tuesday 21st November 2017 (from 2pm until 3:30pm).
Last year, I ran a Game-based research workshop at this conference, where the room was full of people embarking on games and gamificaion for research for the first time. This time, I'll be running an Insight Visualisation workshop with my co-host Paul McGhie. The workshop will show delegates how to make sure research insight has impact through visual storytelling and increasing accessibility to information.
The workshop is almost fully booked but there may be a few spaces left. Check out their website here.You can also view/download the programme here.
Market Research Society, Infographics and Data Viz workshop (2 day workshop), Friday 24th November 2017
My co-facilitator Paul McGhie and I have been running these workshops with the MRS for a couple of years now, and they are always booked to full capacity, which is great!
The two day workshop includes graphic software training so you can learn about the process and method of creating insight visualisations, but also gain a new skill in Photoshop and/or Prezi training. Delegates are encouraged to 'bring their own data' so you can walk away with exemplar work that's relevant to you. You'll also be making Data Caricatures and getting involved with other activities to help bring your insights to life.
Paul and I support all delegates in their process for the two day course so don't worry if it's your very first foray into infographics! Check out the MRS website here for more details, testimonials and booking a place.
But what about 2018??
Professionally and personally, 2018 will be a big year for me, and RTG as a business. So expect to hear top secret news, and seeing us at a fair few events around the world!
A note: Just a quick note to thank all the event organizers who continue to invite us to their events to share our work and passion for what we do. We're humbled to be whisked off around the world for these events and have met so many wonderful people, and been inspired by brilliant businesses that we get to work with!