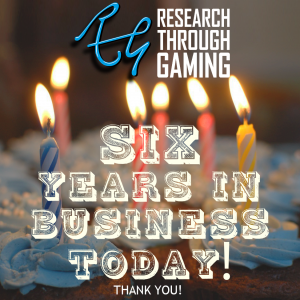 On this day in 2011, Research Through Gaming was registered on Companies House and founded as business – and what an adventure the last 6 years have been!
Thank you to everyone in and outside of the market research
 industry who has supported me/RTG – provided your advice, inspiration, mentorship, time and wisdom.
People like 
Annie Pettit,
Ray Poynter,
Andrew Jeavons,
Kristin Luck,
Gemma Stokes,
Asim Burney
and many, many more have all contributed to shaping what I have done and achieved in the last 6 years, and have been so inspiring.
And thanks for the love and support from organizations like 
ESOMAR
and
The Market Research Society (MRS)
over the years, who have always given me a platform to share and teach on game-based research methods, and of course thank you to all the industry publications and conferences who've invited me to share RTG's work (and my opinions) over the years, which has got me travelling to more countries than I could have dreamed of visiting in this time.
Huge thanks to our wonderful clients who have got us working on such a range of diverse and exciting projects, who have been collaborative and acted as partners – always happy to share our work with the research communities and been active in letting RTG know how we've helped their businesses grow. 
Last but not least, the playspondents who take part in our ResearchGames – the bread and butter of our business – without their time, their interest and their wonderful feedback, we wouldn't be able to show off to our clients what we can achieve!
Thank you everyone! Big hugs from yours truly x