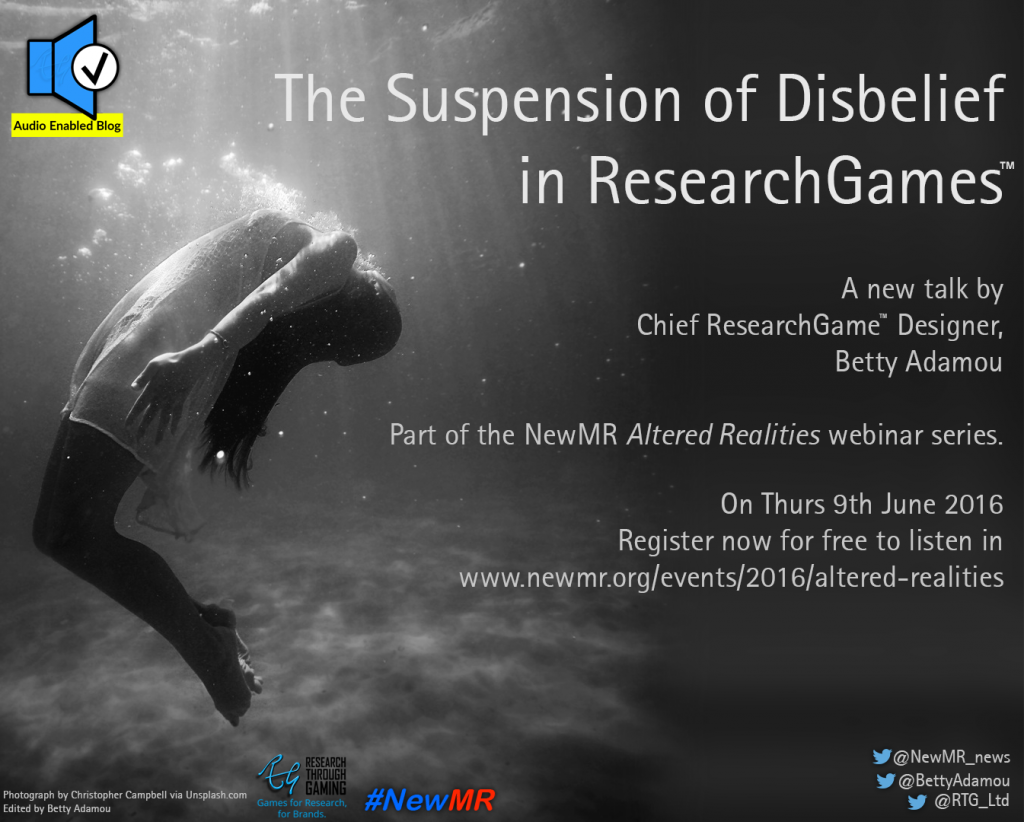 For are audiences who are hard of sight or have other difficulties reading, you can listen to this blog here:
"So much of our lives are spent floating in a sustained suspension of disbelief. We immerse ourselves in unreal, altered realities most of each day, where the majority of this time is dreaming by day or by night. We suspend judgement concerning the implausibility of a narrative when we watch TV shows like Game of Thrones, movies like Harry Potter, and grow up reading weirdly wonderful tales from the likes of Roald Dahl.
With almost every screen and thing around us vying, seducing and calling like a Siren to the rocks to just be anywhere else but in our own lives, the Market Research industry is catching on to the benefits of strategic and functional altered realities.
ResearchGames have been produced by Research Through Gaming since the company's inception in 2001. In that time, we've transported people to other worlds through the use of virtual environments, music and sound fx, story and game. Being an undercover agent, being blasted into the future, becoming a top-level apparel designer, playing product developer and being promoted to a President of a large company are all role-plays in different worlds that we've used for the purpose of immersing playspondents™ in the research content and observing reactions in a way that's truer than ever before.
It doesn't matter that some narratives are fantastical. It doesn't even matter that some of the virtual environments we design and create aren't reflective of any place that's real.
It is in that fantasy of a future-scenario, or of a situation where playspondents only have a limited budget, or amount of time, or can interact with a product that doesn't exist yet, that we have gained insights that have been actionable for the brands we work with. When we combine such narratives, game mechanics and other digital components available to us (such as timers, music and sound effects) we can alter realities in a powerful way for people of any age, culture or gender.
Time and time again, we have blown the minds of our playspondents. With heartfelt and excitable voluntary reviews, they tell us how grateful they feel to have a company take the time to make the research experience a lot better and engaging.
With so much voluntary feedback to evidence fantastic participant engagement, the market research industry can take heed to understand that a functional and strategic altered reality is better, more enjoyable, and more useful to everyone involved. Better than the surveys of yesteryear that have never been able to inspire or capture imagination like the ResearchGame." -Betty Adamou.
The Suspension of Disbelief in ResearchGames™ is our completely new and upcoming talk with the fantastic and free webinar organization, NewMR. Our talk will take place on Thursday 9th June 2016 and presented by our CEO, Founder and Chief ResearchGame™ Designer, Betty Adamou.
What does 'Suspension of Disbelief' mean? We hear you ask. Don't worry, this great Wikipedia article will help.
Why is Suspension of Disbelief important for ResearchGames? Our CEO will reveal all in our upcoming talk!
Want to follow the conversation? You can follow the conversation while listening in to the NewMR webinar, and even ask questions which can be read out during the live webinar by going on Twitter and using the hashtag #NewMR.