From one call of drastic change that is Brexit, to a small group of people who are trying to implement their own somewhat drastic but positive change; I am writing this on Friday morning about how the New Research Speakers Club went last night in this this blog post almost seems unimportant with what is going on today.
But I think not. Let's re-look at the philosophy behind the New Research Speakers Club; that there is a call for diversity and equality on the research stage, and that those who are deemed as 'leaders' in our industry, help raise those up the ladder who are not there (yet). The philosophy for the club is indeed, that we are 'better together'.
So how did the London Chapter go last night? Really great and better than expected!
Many delegates were not able to make it for two main reasons; wanted to do their civic duty and vote so largely did that after working hours, and the nearest station to the venue had issues with flooding due to a huge amount of rainfall (this is England, so no surprises there!).
But we did have 7 people attend, and all from very different backgrounds, and involved in MR in vastly different ways. What I loved about this group was that it was, in itself, diverse; people who were born in other countries, equal in gender split, and a range of ages. This just goes to show that if you are lookingto balance the scales on the research stage, it is so easy to do so.
So what did we do?
Our agenda was pretty simple; because we hoped that the group of delegates that attended the first session also attend the second, third etc (so they can evolve in confidence and techniques over time), this inaugural meeting was just a dip in the water; finding out who we all were, and giving people a space to air their thoughts, and practice speaking in front of a group of people. Some people just listened (which is ok) while others took turns to either stand or sit and tell the group a bit about their roles in their jobs, and how they got into the market research industry.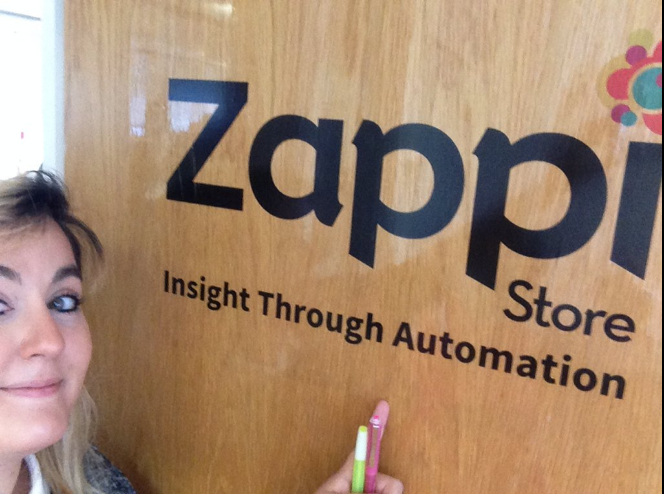 While people were talking, I was wondering to myself "is this really helping these people? Just to talk in a group like this? I didn't doubt the initiative, but just how useful I was, and how useful something so simple could be. The answer was a resounding YES. Every single person in the group, before leaving, thanked me and the people working for Zappistore, the venue sponsors, and were saying how useful they found it, and that the initiative was 'fantastic', 'great', and other similarly positive words. One of the real testaments to the group is the fact that three Zappistore employees, who perhaps were not planning to be part of the group, ended up staying in the group, contributing, and signing up to attend the next event (whether that is again held in the Zappistore venue or not).
Key findings:
Diversity issues were discussed, and everyone agreed that more diversity is needed. The 'research circuit' sees the same faces over and over (and for a time, I was one of those faces), so it is time for diversity and it's NOT just about ethnicity and gender, but age, backgrounds and roles as well (for instance, people who talk about UX design of online research from outside of MR).
Discussed confidence issues, and where they often arise from. One issue was concerns about accents, which took me by surprise completely. This was strange (to me) as I've grown up and spent my career around people with vastly different accents, and heavy accents, and I thought that the accents of the speakers in the club were great! But some of the delegates were very conscious of their accents. So this is something we can help overcome to raise confidence.
There are needs for proper feedback when a paper/synopsis/presentation is rejected by conference organizers: a couple of delegates mentioned they had submitted synopses to conferences and did not get accepted and received a generic response, so they don't know WHY their presentation/paper/synopsis got rejected, so they don't know how to improve anything for a second submission. Yes, conference organizers are busy, but an idea could be to write one or two sentences on how the submission could have been improved and/or what was not 'quite right' for an acceptance.
Delegates would like a list of all MR or MR related conferences.
There is clearly a need for some how to's on speaking and it seems the themes for my group was to separate the How To's by a) live conference (on a stage) and b) webinars.
Everyone agreed they think webinars are a better place to start to build confidence. I very strongly recommended the NewMR webinar platform because that's where I started, and I think it is quite diverse and very forward-thinking.
Everyone wanted to come again
Ideas and moving forward:
Idea from delegate: should this be designed as a course? I'm inclined to say yes but this is something to be discussed.
One idea was for all delegates to contribute just a 1 or 2 minute recording (just their voices, like a webinar) talking to give a snapshot of their personal view of the future of MR. Everyone said either yes or maybe to doing this recording, so we'll see!
Regarding the conference list: There is a big gap in knowledge here. It is my bug bear that organizations (in any industry) do not give this information to their staff. In any industry, you should know what the key knowledge-sharing platforms are, and the key influencers, and what the shifts in thinking and trends are. Even if you're just following a conference on Twitter using a hashtag (as I sometimes do) you cannot do that without knowing what/where/when the conferences are! So an idea was that we NRSC people (like me, and other chairs) provide such a list of conferences. I think it would be useful for the delegates to have this broken down by Conference type (healthcare, FMCG etc) and audience quantity (small, medium, big audiences) location, where/when the conferences take place typically, and separated into 'free' , 'medium priced' and 'expensive" (over £300).
All in all a very insightful event and one that I am more convinced than ever is important and I am convinced it will help to shape the future of the faces and ideas we see and hear on the research stage.
Many, many thanks to Zappistore who housed our event last night with their lovely spread of food, a comfortable room and famous Zappitinis! You were all incredibly helpful!