Annie Pettit is a key figure in the market research industry. She is an advocate for gender equality at conferences (and I'm sure, in general), is an advocate for ethics and privacy in research, and now she is supporting new speakers through her new initiative: the New Research Speakers Club. https://newrst.wordpress.com/tag/toronto/
The initiative is summed up by Annie on the website: "The Club will give researchers, statisticians, data scientists, data visualization experts, and other people from related professions a forum to develop their speaking skills in order to meet the growing demand for fresh and skilled speakers in the industry. This club is aimed at helping those who have limited speaking experience, and those who have never spoken at a major conference before."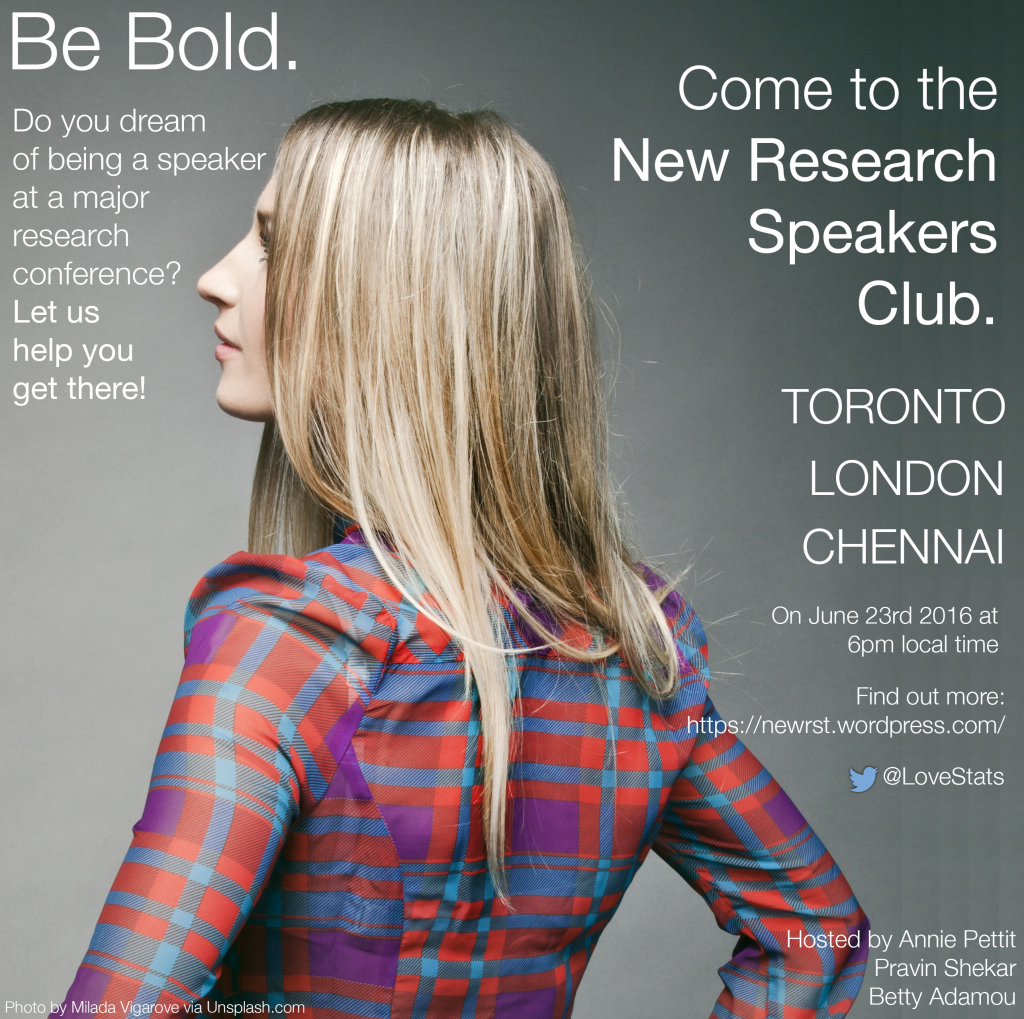 Many people in research may have great ideas, or a case-study to share which could change how we think of our own research methods, but perhaps there could be many factors stopping new speakers in submitting a synopsis to a conference. It could be that they are shy, don't have any or much experience in public speaking, or maybe they feel their idea 'isn't good enough' (which very often, would not be the case).
The New Research Speakers Club wants to change all that – help new speakers gain confidence by testing their material and gaining feedback and much more in the future.
I'm very lucky to regard Annie as a friend, and so when she spoke to me about this initiative, I asked how I could help. Then Pravin Shekar from KREA asked how he could help. Now with the collaboration of the three of us, Annie's "New Research Speakers Club" now has 3 chapters; in Toronto where Annie is based, in London where I am based, and in Chennai, India where Pravin is based.
For those of you who are interested in attending the first ever New Research Speakers Club can check out the Eventbrite pages for each location below.
The Club will take place on June 23rd this year and at 6pm local time. Venues will be confirmed with the hosts of each club chapter.
We look forward to hearing from you new research speakers!