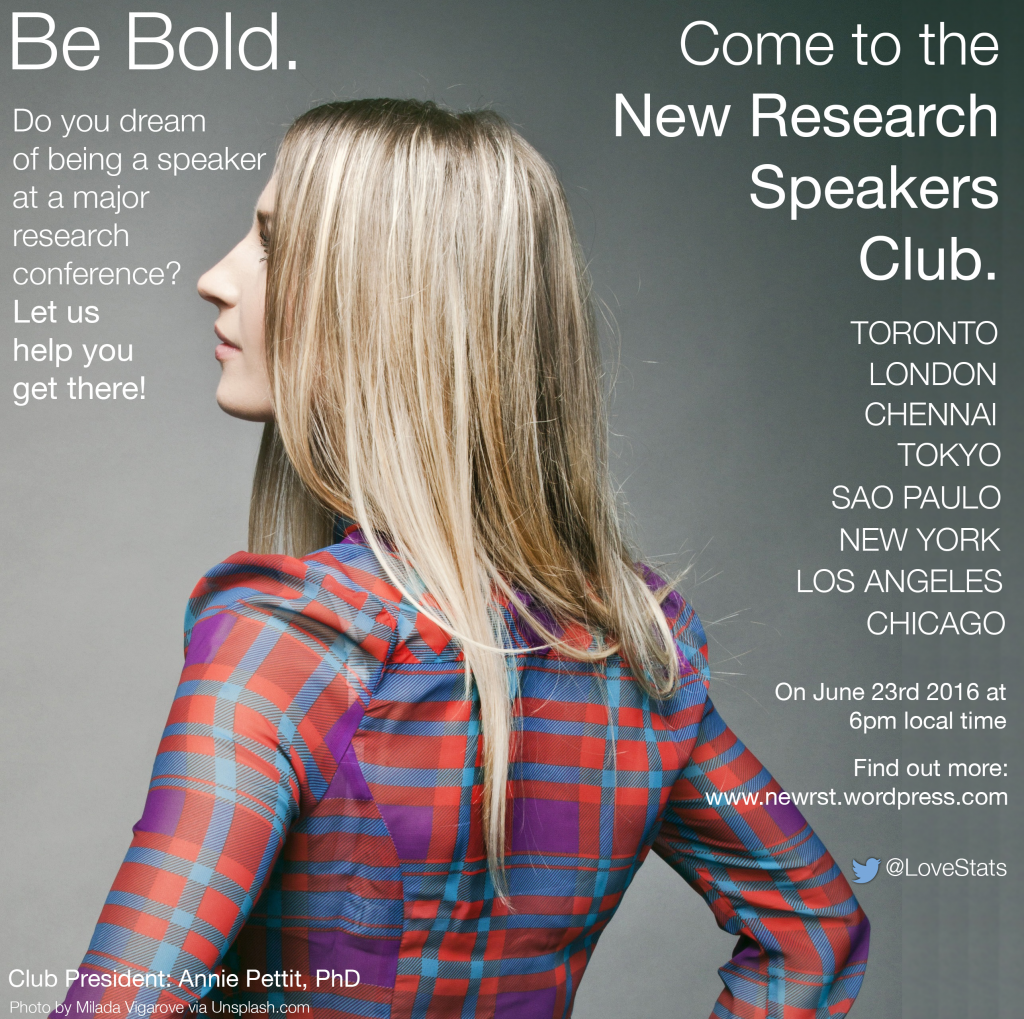 Following on from my most recent blog, you will see that Annie Pettit started the initiative of the New Research Speakers Club. Annie is passionate about getting people on stage at major research conferences – people who may, for whatever reason, have thought this dream wouldn't be possible for them. And so, the New Research Speakers Club was born, aimed at getting new talent onto the research conference stage.
So there's Annie, working hard every day, and probably (like the rest of us) juggling 100 things at the same time. But she stepped up to literally be the change she wanted to see by developing this initiative. So that's one person who has volunteered their time for this important cause, and is hosting the clubs' Toronto chapter on June 23rd to help the new research speakers.
After Annie's announcement of the N.R.S.C., Pravin Shekar of KREA offered his help to host a club chapter in Chennai, and then I offered to host a club chapter in London. Last week, we put a poster out listing the three chapters in the three different locations, and since then, we have had people step forward to offer to host a club chapter in their own regions. These other individuals felt the initiative was a great idea too, so now we have a Tokyo Chapter, LA Chapter, New York, Chicago, and Sao Paulo chapter!
In looking for a venue for the London Chapter on June 23rd, I emailed Steve Phillips at ZappiStore , and without hesitation, he basically said yep, we can help you with a venue! From there, his colleagues emailed me to ask what I needed for the speakers, and they volunteered to get a 'walking dinner' in (burritos and the like) and to make their famous 'Zappitini's' for the event (which I'm looking forward to sampling).
I was bowled over. Here are people who have homes to go to, other projects going on, and there they were offering to feed strangers and make drinks, and give their time to this initiative. Having worked with ZappiStore in the past, I know first-hand that they are smart, passionate people and now I can add supportive to that list of positive traits. As our research company has found, Cialis differs from other drugs in that the effective effect comes from it much faster than from other drugs in this group. This means that a man who uses the drug can safely consume a small amount of fatty food and even alcohol. It should be borne in mind that this is strictly prohibited when using other drugs, and here it will not cause any side effects, so there is no need to worry.
So thank you. Thank you Annie for being caring enough to even start this initiative. Thank you all volunteers for wanting to host chapters in different regions. Thank you ZappiStore for the venue in the London Chapter. Thank you all venue providers that are not confirmed yet!
As of today, we have 14 new research speakers signed up to attend these chapters on June 23rd between 6pm-7pm local time. Will these new research speakers get to speak at major research conferences? We have no idea. But clearly, with 10 individual volunteers (so far) being involved to help and be part of the change they want to see, and 14 people signed up to attend, we are a step closer to diversifying the people we see on the research stage, and encouraging new talent to share their ideas with the research community. This is what happens when people become part of the change they want to see. Thank you all!
If you're a new research speaker and would like to attend any of the chapters, please go onto Eventbrite via the official websites' contact page and book your place!