WORKSHOP COMING UP! Want to make a website for your business but not sure where to start? Whether you're an existing entrepreneur, or you want to jump ship to start your own business, come along to this workshop at the Market Research Society (in London) & make a device agnostic website that shows off your work.
The 'Make you own website' course (beginners level) is a full day workshop at the Market Research Society on Weds 13th July.
Paul McGhie of marketing company Leading Thought and yours truly will be providing 1-2-1 training to show you how to make your own WordPress website, and how to maintain it. Check out the MRS website for the course details here: https://www.mrs.org.uk/event/course/4802/id/11872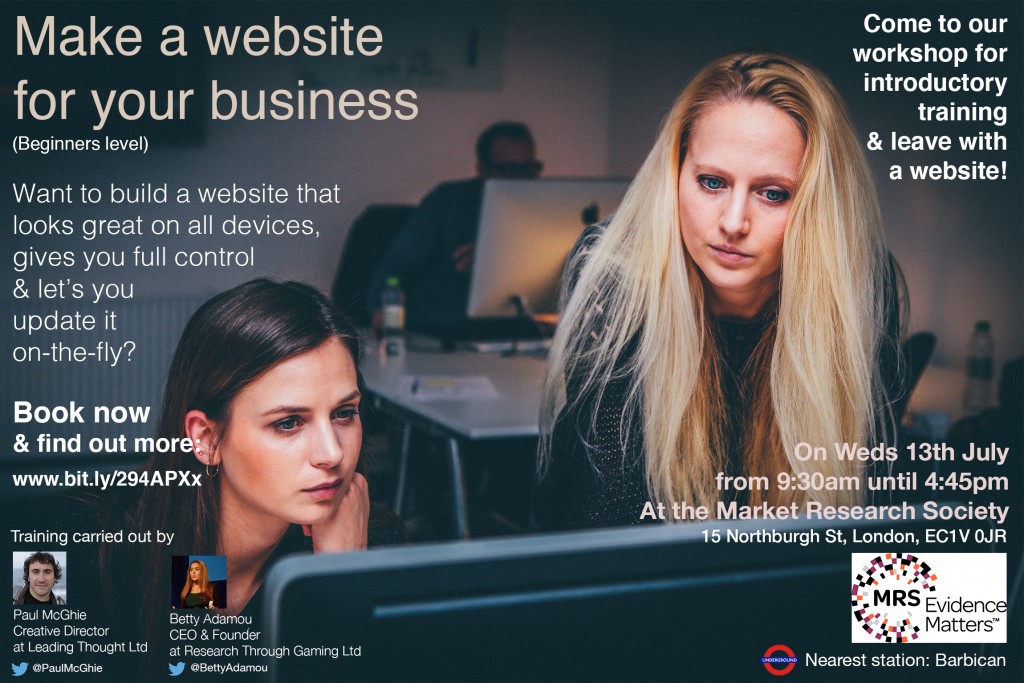 Although this workshop is generally aimed at those in the market research industry, people from ALL professional backgrounds are very welcome to come!
Who would benefit? This course is ideal for anyone who wants to have a basic website for their business but doesn't know how to build or maintain it.
Objective ? This course enables you to create a free WordPress website to give you the confidence to use WordPress on your own after the training.
Learning outcomes 
By the end of the course, delegates should:
Have developed a free WordPress website from the free themes delegates have chosen during the training
Leave with a fully-fledged website with five pages:

Home/landing page
Products/services page
Contacts/booking page
'About' page
Case studies/testimonials page

Be able to source copyright-free images for your website
Be able to understand and use Search Engine Optimisation
Learn how to buy your own domain name (delegates can do this on the day if they wish, if they have a valid credit or debit card they wish to use to buy their ideal domain name with the step-by-step guidance of the course convenors)
Practicalities
Delegates do NOT have to purchase a domain name before coming to this course. Delegates will be able to get a free WordPress domain on the day.
Delegates should understand that they are making a free WordPress website to get used to the processes of using WordPress, therefore there will be functionalities unavailable via the free website domains and themes that may be available through paid WordPress websites and themes. While free WordPress websites can be more limited than paid versions, free WordPress websites will still be able to offer a very rich choice of website templates.
To view examples of how a free WordPress website can look, see https://theyoungentrepreneursclub.wordpress.com/